Makes your event
available

on

all devices, all the time. Affordably and securely.
Our San Diego Live Webcasting service saves time, avoids travel and security issues and engages your community of users, members, employees or partners. We manage and produce your live streaming events from A to Z ensuring a smooth process.
Whether it's a town hall meeting, training classes, company meetings, product launches or any other live event, we have you covered with global crews and 25 years of production experience. Webcasting around town, across the country or abroad. No matter what the location, ICV Live Webcasting can help.
800-272-3070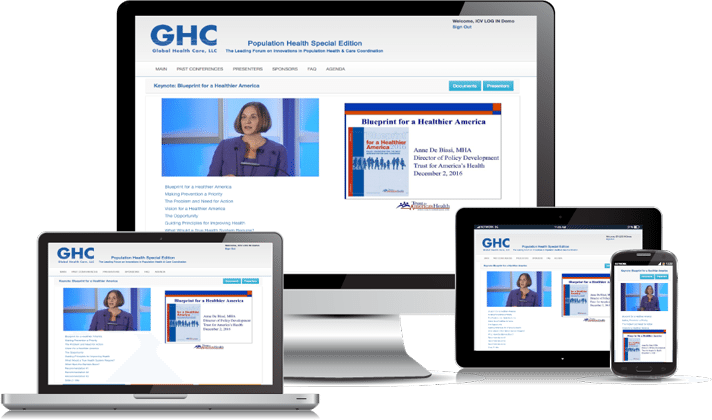 WORKING WITH
ICV LIVE WEBCASTING
YOU'LL BE IN GOOD COMPANY
ICV is the most experienced San Diego Live Webcasting Service you'll find. We manage the entire Webcast event no matter how large or small the event or the audience. From single room Company Meetings Webcasts to multi-day Global Conferences Webcasts. We have full-time webcasting crew in San Diego with HD Video Production racks ready to webcast at any location in the San Diego Area.
AFFORDABLE

LIVE WEBCASTING PACKAGES
25 Years of Webcasting Experience around the world and around the block.
Remember, our San Diego live webcasting service prices include all of the webcasting technology and services you'll need, including your own secure branded website and players using a single URL for both live and archived video streaming.
BUSINESS
You supply house audio and venue lighting
Templated Media Portal and video player
Live Webcasting for 1 Full Day
Full Crew with 1 Camera Op, 1 Encoding Technician
Unlimited viewers
Access control with user login
Full usage reports
Archive access to the recorded webcast
Any location in San Diego
ULTIMATE
Audio and lighting for presenters
Video with synchronized powerpoint slides
Custom Media Portal and video player
Use the domain name of your choice
Live Webcasting for 1 full day
Full crew with 2 Cameras and operators, 1 Technical Director, 1 Encoding Technician
Unlimited viewers
User registration and confirmation E-Mails
Full archive hosting of the webcast for 6 months
Full usage reporting
Live chat for viewers
Any location in San Diego
Call to get a Ready to Webcast price today.
800-272-3070
Planning large conferences is tough enough. Growing the audience for an event is harder. ICV's webcasting service made doubling our audience and rev pretty darned simple. They have this down.
ICV Live webcasting has been the best partner you could imagine. Every event goes smoothly no matter how stressed out we get before the show, they remain calm and just get it done. Excellent people.
GET A LIVE WEBCAST
QUOTE

– FAST!